Sports Page was founded in 1982 by Gary and Susan Higley. Originally a multi-sport retail store, Sports Page evolved into a specialty snowboard and ski shop in the mid-1980's. Gary took his passion and experience as a nationally ranked ski racer to the business world, where he and Susan built a reputation throughout the Northeast for providing the highest quality products and expert ski services. Today, the Higley family remains true to their original mission of combining industry knowledge, modern technology, and personalized service to ensure each customer receives the best experience, both in-store and on-snow.
Our team continues to outperform ski manufacturers' ability to provide a great skiing experience off the rack. Harnessing recent advancements in tuning technology and our ability to require companies to re-calibrate modern machines to our specs, we are now able to tune products to exact angles, with the flattest bases. As a result, our customers receive the ultimate performance and worry-free ski experience.
The expert back shop at Sports Page offers everything from a basic edge and wax to a full race prep. Our custom ski boot fitting process includes properly fitting each customer at the point of sale and guaranteeing their comfort and 100% satisfaction. We specialize in handling minor tweaks in stance alignment and leveling to complete boot build-outs. Whether working with our customers on the showroom floor or with your equipment in the back shop, our promise has always been about performance and consistency. For over three decades, we have delivered on this promise for customers all over the northeast. We're honored that our customers come from both near and far for the Sports Page Ski Shop experience. We deliver a level of service that only a locally owned specialty ski shop can provide.
We take tremendous pride in being a family owned and operated business. Our successes are attributed to our hard working our team and their years of combined ski and snowboard industry experience.  Most of our employees have been with us for years. We are fortunate to have some of the most knowledgeable and dedicated skiers, racers, and snowboarders who research, review and hand-select every product we carry.
Following in Gary's shoes, sons Drew and Justin are both former New York State Champions and Junior Olympian/FIS racers. The competitive drive to deliver the highest quality products and services to our customers has never been in question. It's become a way of life and simply what we do.
The goal at Sports Page is a simple one. We work hard to help match every customer with the right gear for them, to help provide a fun experience on the mountain.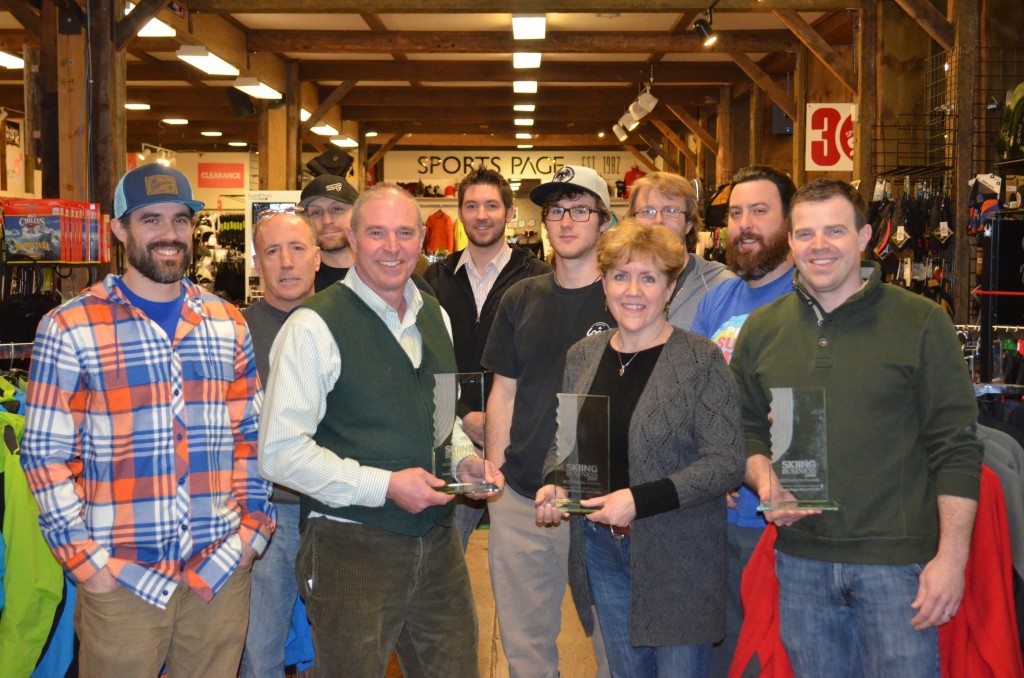 Rated #1 Tuning Shop in the USA: 2011, 2012 & 2013
Rated Best Skis & Snowboards Selection in the USA: 2013
Rated Best Ski & Snowboard Accessories in the USA: 2013
A few years ago, we decided to take our passion for the outdoors to the next level. In addition to our ski & snowboard shop throughout the fall and winter, we wanted to offer our customers some relaxation in style and comfort during the spring and summer seasons. The Patio Shop at Sports Page was born. Today, we offer one of finest selections of quality residential and commercial Patio furniture in Northeast at the most competitive pricing.
Thank you for visiting our website. Please feel free to email or call us any time with questions you have regarding our products or services. If you have never been to our store, we welcome you for a relaxed shopping experience to discover something new!